Safety of Photovoltaic Installations in case of Fire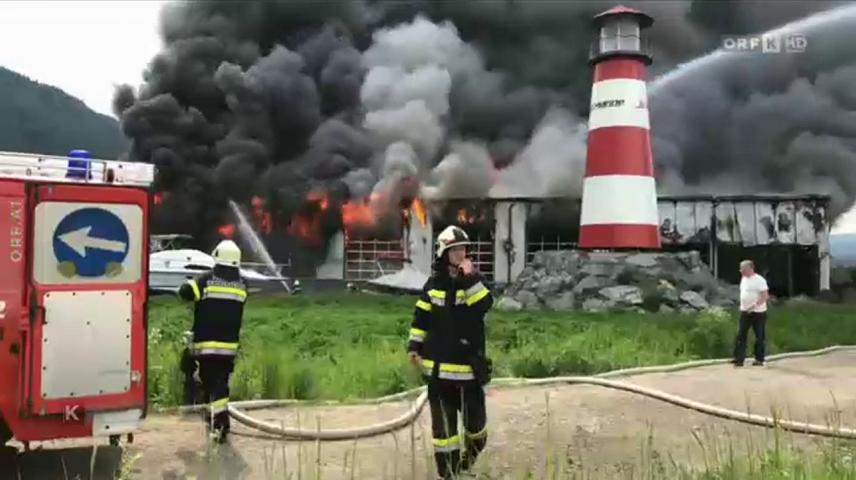 (c) ORF
On the occasion of a major fire in a maritime yard in Carinthia, Austria Mr. Jakob Zehndorfer, Expert Witness for Photovoltaics was interviewed by Austrian TV-Channel ORF, regarding the safety of Photovoltaic Installations in case of Fire. The roof of the building had been equipped with a commercial photovoltaic plant, which in case of fire can be uneasy for firemen. However, with the right approach, firefighting with a photovoltaic installation is no more dangerous that without.
PV Installations from an Electricians point of view
Photovoltaic installations are electric low voltage facilities up to 1000V like many others. Therefor the same rules as for other electrical equipment apply. At the fire in Carinthia the PV installation was not the cause of the fire, but a charger for a boat battery, as confirmed by a colleague expert witness. Apparently, there were some uncertainties among the firemen how to deal with the energized PV panels.
PV Installations from a fireman's point of view
If you ask a fireman, roof top PV plants can potentially delay the firefighting. The PV plant needs to be isolated from the electric grid. Especially with larger installations this will not be done in one go with the disconnection of the building, because they often require a separate branch connection to the distribution transformer. Due to the fact that PV panels generate electricity at exposure to light, a minimum distance to the PV panels needs to be observed. When fighting fires from above (through the roof) it can also be necessary to open the roof. In this process the roof is worked on with a fire axe, where PV panels can be an obstacle. If in the heat of the fight, people have to stop, thinking about what to do next, injuries due to electric shock can occur.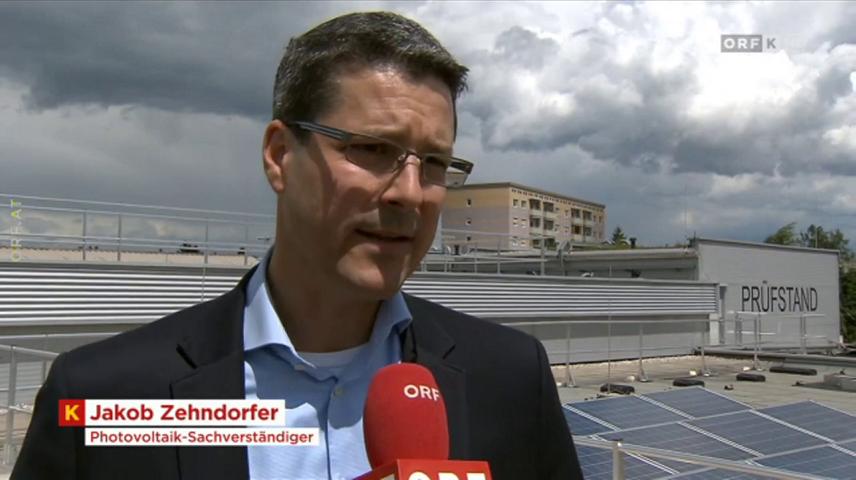 (c) ORF
Protection of firefighters
In order to protect firefighters from electricity in the case of fire, PV installations are built according a special guideline (OVE R11-1, protection of firefighters). IT consists of technical and structural measures for the construction of PV installations, which ensure that nobody will be harmed by the generated voltages. This goal is achieved merely by short circuiting the path for the electric current on a low ohmic path. If the double insulation of the cables fails due to the fire, the cables will be connected (e.g. via a metal cable tray, causing a string current of approximately 8 A to flow. This in turn shorts the originally 1000V to a voltage of a few volts. All installations are to be equipped with a mains switch, with easy access to firefighters, because the isolation from the electric grid is the first and most important task before fighting a fire.
Effective Procedure
Zehndorfer Engineering offers a one-day seminar titled "Dealing with Photovoltaic Installations in firefighting". In this course the theoretical background of electrical engineering, as well as the composition and function of PV-plants is explained; the relevant technical standards and regulations are shown by means of practical examples and strategical guidelines for the firefighting of solar plants are layed out. During the practical part of the course the correct succession of tasks are practised as well as the correct handling of PV components. The PV panels ca be extinguished with normal water, like all other voltage carrying parts. To do this a minimum distance of 5 m with continuous warter-jets or 1 m with spray-jet are necessary in order to avoid electric shock for the fireman. High voltage installation are extinguished in the same manner, but with higher minimum distances.
Which installations are safe?
State of the art solar plants, that are in line with all relevant standards, considerably minimize the danger for firefighters. In order to deploy these good standards assiduously, it is recommended to contract a renowned PV specialist. A mains switch with easy access for firefighters is indispensable, especially for larger PV installations. For utility-size generators a safety induction for firefighters should also be carried out, in order to make sure that firefighters know exactly where to go in the case of fire.
Zehndorfer Engineering regularly conducts courses for Electrical Engineering in seminars or at the client's premises. Jakob Zehndorfer is Expert Witness for Photovoltaics.