Photometry
We assess and verify the compliance of installed lighting systems with standards and regulations in Europe. This includes sports lighting, exterior lighting systems, advertising billboards, illuminated signs and illuminated pylons as well as floodlit facades.
Light Engineering Assessment
Light Engineering Assessments are required in the building permitting process, in order to avoid unreasonable disturbance of neighbours or road users. Typically, assessments are done according to Guidance Notes for the Reduction of Obtrusive Light (GN01) or similar country-specific regulations.

After the Photometric Measurement of the luminance and illumination at the point of immission, the allowed limits for these values are calculated based on several environmental factors. These limits assure, that the possibility of discomfort glare or disability glare are reduced or eliminated altogether.

The Lighting of Workplaces is coordinated in all of Europe according to EN 12464, (BS EN 12464 or DIN EN 12464). It regulates the minimal illumination and its evenness and provides a framework to calculate the glaring potential according to the Unified Glare Rating (UGR) for different activities.


Assessment Report according to LAI-2012

The Notes on the Measurement, Assessment and Reduction of Light Emissions (Hinweise zur Messung, Beurteilung und Minderung von Lichtemissionen) of Germany's Länder Arbeitsgemeinschaft für Immissionsschutz define methods for the measurement and validation of lighting levels. They also set limits at which undesired light immissions on humans are defined as unreasonable nuisances.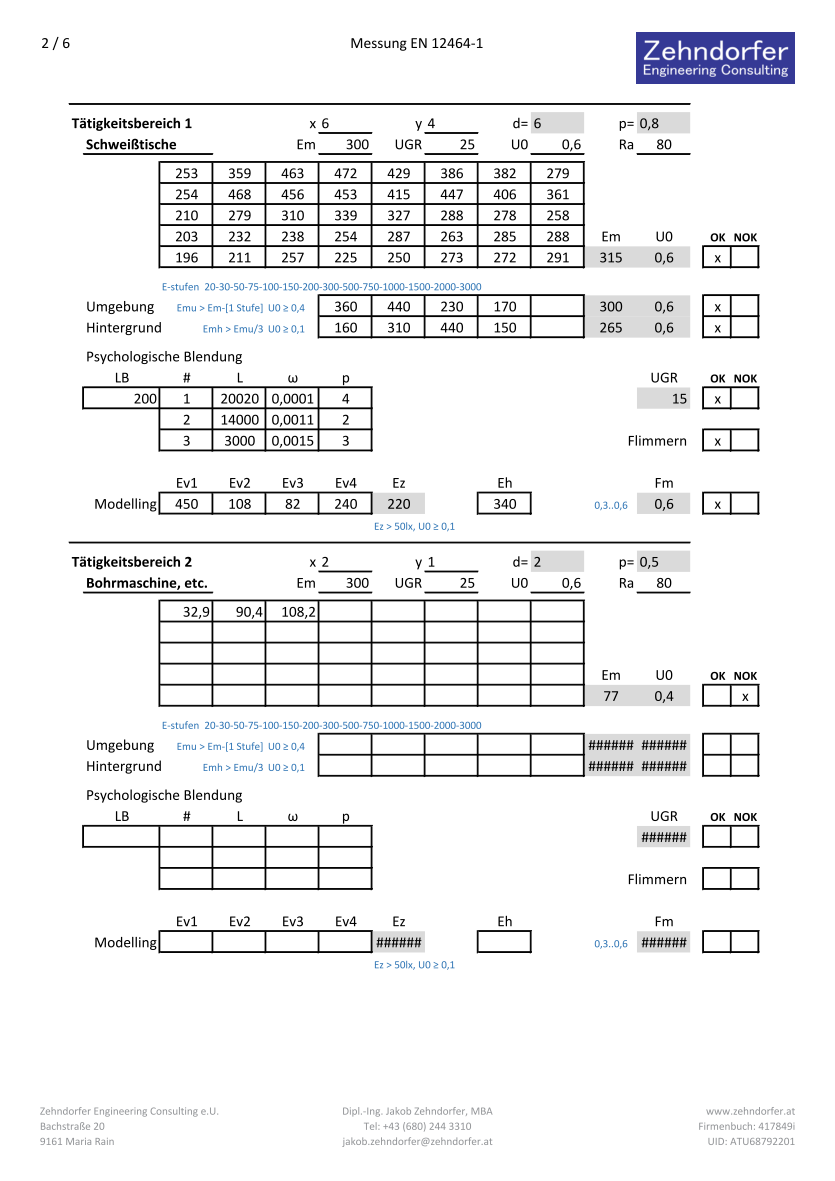 Assessment according EN 12464
The lighting of work places (for indoor workplaces and outdoor workplaces) in Europe is regulated according to EN 12464 and its national standards (which refer to ISO 8995-1:2002 and CIE S 008/E:2001). This standard sets the minimum illuminance for different industries and activities. It also defines the measurement and the limits of the Unified Glare Rating (UGR) values for these areas. The particularities of monitor work places are dealt within this norm as well a Modelling, Reflective Glare and shading of sources of glare.
Links
Deutsche Länder Arbeitsgemeinschaft für Immissionsschutz