Examples of Building Glare
Death Rays in London - This title was chosen by the English media, after the 37-story building in 20 Fenchurch Street, that has a concave facade, focused the sun rays to such an intensity that the plastic parts of a car parked on the opposite side of the road melted. Next to visible light also a good share of infrared irradiation is reflected. The problem was solved with the installation of horizontal blades over the whole facade - a cost factor that had not been factored in - even the molten Jagua XJ seemed cheap in comparison.
The 57-story Vdara Hotel on the strip in Las Vegas was focusing sunrays on its pool area melting plastic and scorching hair. Interestingly the problem had been anticipated and thought to be solved by the application of a special high-tech foil on 3000 glass panels, which at the end was not enough to reduce the irradiation to normal levels.
In Germany, too, the sun reflections of some buildings have caught the attention of the media. In Freiburg the facade of the university library has been equipped with mirror glass. Together with the slanted facade this fact caused a dazzling glare for car drivers and users of the near bicycle path. To avoid this ever year during summer, 250m² of the glass facade need to be covered by a drapery on the outside.
What is a Solar Glare Assessment?
Almost every glass surface reflects light. Typically, only a small share of sunlight is reflected, but this small percentage can already lead to dazzling of neighbours or road- and railroad traffic. Solar Glare Assessments already had an essential impact on the planning of solar plants - their panels also have a glass surface - but also Glass Facades have reportedly caused glaring hazards to traffic, resulting in necessary adaptations of the facade.
A Solar Glare Assessment, also Glint and Glare Study will inform about a building's potential to reflect sunlight towards critical points before it is built. In a simulation several important parameters of the sun's reflections are obtained such as duration and time of the exposure, directions or the sunrays and intensity of the glare. The study typically also contains an evaluation of the glare (not all glare is dangerous) as well as counter measures if needed.
Peculiarities of Buildings
Glare can come from miscellaneous sources. It has probably mostly been investigated for solar power plants. However also buildings can cause significant glare at neighbours and traffic. Due to their shapes buildings have a few peculiarities, that are not seen in solar plants, such as:
vertical reflectors
shapes other than completely flat (e.g. convex or concave)
heat reflecting glass
Buildings' facades are typically vertical. This means that they can be seen from far. The fact that the reflected sun elevation angle does not change, is an advantage in this case, because it will not cause horizontal deflections (as opposed to solar panels, which are typically installed with a slope). Complex shapes of building facades can cause focusing of the sunlight and thus be the reason for material damage, as it happened in some infamous examples above. In order to keep the air conditioning costs low, heat-reflecting glass is used frequently for large glass facades. Its reflectance for infrared irradiation can be much higher than for visible light, thus having a higher heat impact on outside targets.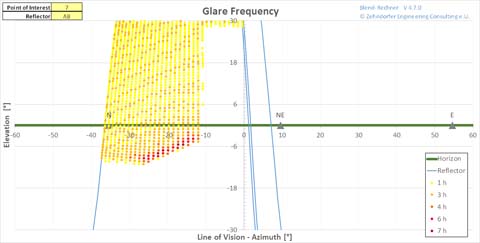 How to obtain a Glare Assessment ?
Only a few parameters are needed for the calculation of the Solar Glare of your building facade.
The position and layout of the building
The slope/shape of the facade (if not vertical)
The reflection coefficient
We will select the critical points (traffic, neighbours, etc.) and execute the glare calculation. All results will be represented in graphical form in the solar glare report, which will inform you about
Whether or not and how long glaring will occur
The impact of the glare on neighbours or traffic
Which counter measures to take (only if there is significant glaring)
More about
...the Solar Glare Assessment of UKs highest building
...Download a Solar Glare Assessment of The Shard [1.3MB]
...a building glare assessment next to a highway.