Solar Glare Analysis at Vienna Airport
Solar Glare Analysis at Vienna Airport helps avoid Glaring Hazard for the Tower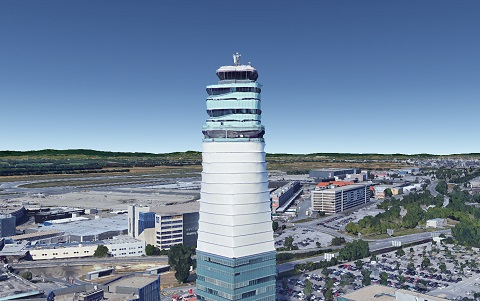 (c) 2017 DigitalGlobe, Landsat / Copernicus
Vienna, Austria - The view from the tower in the direction of the runways is essential for air traffic controllers. Only when visibility to the free runway is sufficient, the times for airplane starts and landings can be optimized. Even for the evaluation of rolling traffic a clear view is important and cannot be replaced by radar screens completely. This is why an air traffic control tower is equipped with several features to improve vision for air traffic controllers. Tinted and slanted glass helps to improve contrast at different weather conditions. Blinds (not unlike the ones in a car) and shutters allow to avoid glaring and improve light conditions. However, when reflections are coming from a direction where another object should be recognized, a dazzling of the eye cannot be avoided. This can lead to after-images on the retina, which impede following visual tasks. Dazzling of longer duration can also lead to headaches and in the extreme case to retinal burn.
Operation and Maintenance of PV Plants
Monitoring and Yield Reporting for PV Parks
Operations and Maintenance of PV Parks requires continuous yield monitoring. Even short interruptions can cause losses of thousands of Pounds (or Euros), depending on the size of the installation. When a 20 MW PV park is inoperative for a day, 100 MWh of energy can easily be lost, an amount the investor will not have budgeted for. The time for repairs and maintenance for utility-size solar parks has to be chosen in a way that only few sun-hours are lost and the installation stays mostly productive. All operations and maintenance companies therefore streamline their processed to avoid and reduce downtime - especially for large-scale PV parks. Asset Managers - frequently experts from the world of finance, frequently perform a monitoring role in order to assure financial returns for investors. However, since not every Asset Manager has an overview over the technical particularities of photovoltaics, unambiguous performance indicators are needed to assess the effectivity and added-value of the operations and maintenance team.
Glint and Glare on Airport
Solar Glare Assessment for Salzburg Airport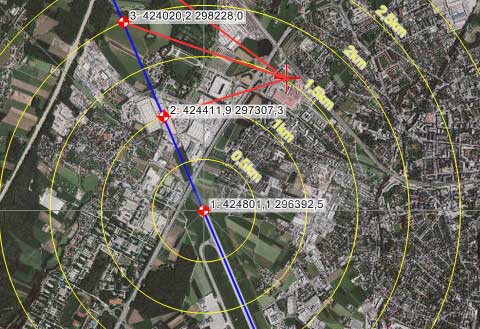 Two PV plants, planned on the roof of a retailer near Salzburg Airport needed a Solar Glare Assessment. The purpose of the glint and glare study was to verify the dazzling effect in the critical take-off and landing phase. The solar plants with a planned size of 200kWp each, have a non-negligible glass surface area which point in the direction of the airport. While for immission safeguarding of neighbors the glare duration is a decisive factor, in this case the emphasis lies on the general potential of dazzling as well as on the angles between glaring and line of vision of pilots (i.e. the heading of the airplane).
Glint and Glare Study for Autobahn
Solar Glare Assessment for the German Autobahn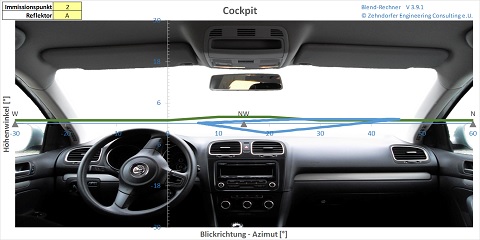 The road authorities of Bavaria / Germany requested a Glint and Glare Study for a planned photovoltaic power plant next to the A3 Autobahn. The assessment had to evaluate the potential Solar Panel Glare from the PV-plant toward vehicles driving on the highway in both directions. Given that the highway's guard rails hide part of the installation, one could believe reflections to be shielded off anyways, but for the higher seated truck and bus drivers the PV installations still would be fully visible and thus a potential source of Solar Panel Reflection.
Guideline for Solar Glare Assessment
New Guideline for Solar Glare Assessment in Austria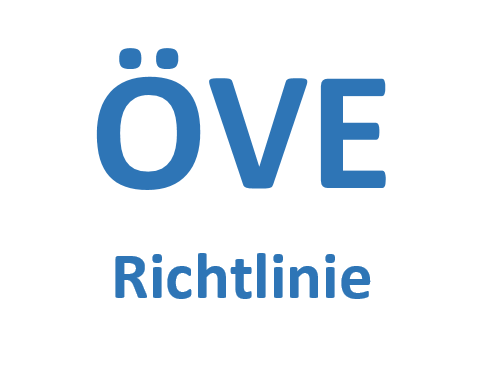 November 1st, 2016 - OVE (the Austrian electrical engineering association) has published a new guideline titled Solar Glare from Photovoltaic Installations on its homepage. The new regulation OVE R11-3 is available for download since the beginning of November 2016 via this Link.
The guideline helps to assess immissions of light from PV-plants and defines clear limits for which kind of glint and glare is substantial in a solar glare assessment. Next to the required protection of neighbours it deals with the glaring hazard on road-, train- and air-traffic in order to avoid or reduce imminent dangers and substantial nuisances by immissions of light from PV-panels. The guideline can be applied in advance for planned PV-plants as well as in case of neighbours appeal against existing installations.